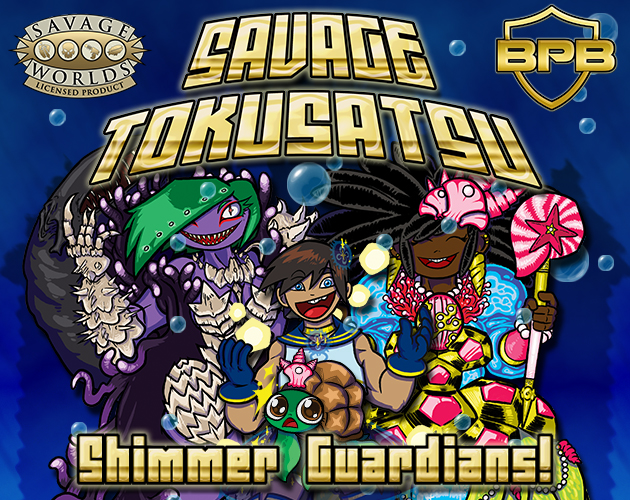 Savage Tokusatsu: Shimmer Guardians Adventures!
Transform, Mahou!
Savage Tokusatsu: Shimmer Guardians! is a four part mini-campaign utilizing Savage Tokusatsu's easy to use Mahou Campaign rules. Players take on the role of youths who have just been chosen to become magical children to help protect the world from the abyssal machinations of the greedy Empress Grenadier! Use magical powers and emapthy to rescue, heal, and protect Grenadier's victims while learning more about yourselves!
Savage Tokusatsu: Shimmer Guardians! is perfect for kids, adults, and families looking to enjoy a lighthearted adventure of magical do-goodery! Run through all four adventures for a wonderful mini-campaign, play the first adventure as a one shot, or create your own adventures to fill out a longer campaign! There's no wrong way to play!
What Do I Get?
Buying this product gives you FOUR One Sheets that make up the skeleton of a campaign that can be as long or as short as you want it to be!
Episode One: Bubble Pop Panic! introduces the setting, stakes, and major characters in a great starter adventurer!
Episode Two: Boil Over! sees the mahou facing off against the brainwashed Char-a-cuda, an aquatic chef maniuplated by darkness!
Episode Three: Shadow Tide! introduces a new mahou who is more than they appear to be. Are they friend or foe?
Episode Four: Save the Seas! brings this epic adventure to its thrilling climax as the mahou face off against the evil Empress Grenadier herself!
What Are You Waiting For? The Ocean Needs You!
Purchase
In order to download this game you must purchase it at or above the minimum price of $5 USD. You will get access to the following files:
Shimmer Guardians Episode 1.pdf
981 kB
Shimmer Guardians Episode 2.pdf
1 MB
Shimmer Guardians Episode 3.pdf
1 MB
Shimmer Guardians Episode 4.pdf
1 MB